If you've chosen to select your own airbrush equipment assortment, one of three major items on the "needs list" is to build out your airbrush air line. Essentially, connect your airbrush to your air compressor.
When done correctly, you will have clean, well metered air flowing to your airbrush no matter the distance needed to cover.
In order to achieve such results,
There are 5 major items you'll need to incorporate into your air line, they are as follows:
Follow along with me, and I'll guide you through the entire process from component selection to final airline assembly.
Air Regulator

The ability to meter air pressure supplied to your airbrush based on your momentary needs is vital for an airbrush to function correctly and reliably.
An airbrush requires a specific amount of air pressure to atomize the color correctly. The amount of pressure desired from the airbrush will vary based on the viscosity of the paint, the size of the airbrush needle & nozzle, along with the subtle discrepancies based on the application you are pursuing.
In short, you need the ability to adjust the air pressure based on many differing factors that can change rapidly throughout the process of an art work.
In order to control the air pressure, you will need an air pressure regulator. It can be integrated into your air supply (As is the case with most air compressors) or placed at some point within your airbrush air line.
Either way, you must have a means to manually meter the air pressure delivered to your airbrush from your air supply based on your momentary pressure needs.
What if I don't use an air regulator?
Odds are you will be working with too high of air pressure, resulting in significant overspray. On the other hand, too little air pressure will result in insufficient atomization of the paint. Either way, the result will not be desirable.
Air Pressure Regulator Orientation:
Compressor → Regulator → Shop Hose → Air Filter → Airbrush Hose → Airbrush
Most air compressors will come equipped with a pressure regulator. If your compressor did not or is not functioning. You can purchase an air regulator that can be tied into your air line.
Recommended Air Pressure Regulator: I recommend This Pressure Regulator (available on amazon) is great for airbrush use, as it allows for precise adjustment of air pressure within the pressure range an airbrush requires and no more.
Discover what to look for when selecting an airbrush air regulator, as well, what to avoid. Get recommendations based on what's available on the market today.
Air Hoses

To gain extended reach, as well as make your airbrush maneuverable and easy to use in the hand, air hoses should be incorporated into your airbrush air line.
But not just any compressor air hose will do.
At bare minimum you will need an airbrush air hose (To which we will discuss shortly), but if you'd like you can also incorporate a large shop air compressor air hose into your air line for even greater reach.
Let me explain,
Airbrush Air Hose
The airbrush air hose is specifically designed for airbrush use. It is commonly made up of a flexible inner hose, with a reinforced nylon braided fabric outer shell. The airbrush air hose is light weight and slim, making it easily maneuverable and comfortable in the hand when operating the airbrush. It is required that you utilize an airbrush air hose when connecting your airbrush to an air compressor, as it comes with the necessary fittings needed to tie your airbrush into the air line.
Airbrush Air Hose Orientation:
Compressor → Regulator → Shop Hose → Air Filter → Airbrush Hose → Airbrush
Recommended Airbrush Air Hose: I personally use, and recommend This Airbrush Air Hose (Available on Amazon). It's a quality hose, and comes with the commonly asked about, and necessary 1/4″ female to 1/8″ male fitting.
Shop Air Hose (Optional)
For those in need of extended reach, you can integrate a commonly available 3/8″ shop air hose with 1/4″ threaded fitting ends into your airbrush air line (At the length you choose). Doing so provides a multitude of benefits including Additional Reach, Quieter Work Environment & Cleaner Air Flow. Let me explain "Cleaner Air Flow", I sense there may be some confusion: having additional hose before the air filter, allows time for the air coming from the compressor to cool and condense before the filter, to which the filter is then able to collect the contaminants, so you have clean, uncontaminated air flowing to your airbrush. Including a shop air hose into your airbrush air line is not required but will be very beneficial if you become serious about airbrush.
Shop Air Hose Orientation:
Compressor → Regulator → Shop Hose → Air Filter → Airbrush Hose → Airbrush
Recommended Additional Air Hose: I recommend you use This Additional Shop Air Hose (Available on Amazon) as it meets the spec's necessary to function well with 1/4″ NPT fittings, as well it is long enough to satisfy the needs of most, if not, they have alternative length options available.
I personally use both, an airbrush air hose, as well as a traditional shop air compressor hose. I personally enjoy the ability to place my compressor some distance from my workspace in order to create a quieter work environment, that's the main reasoning behind using the shop hose personally. But of course, I do enjoy the additional benefits listed above.
Learn the spec's and parameters available in an airbrush air line. As well as, how you can determine what size fittings you'll need for your setup. Note, not all airbrush manufacturers utilize a 1/8″ BSP threaded male fitting as a connection point.
Air Filters

Filtering the air coming from your air supply to your airbrush is vital to your artwork. This is because, moisture and other oily contaminants can develop within your air supply.
If these contaminants are not filtered out, they will travel down the air line and likely land on your artwork. If such contaminants are allowed to pass through, your artwork could appear discolored, splotchy, or the paint may not adhere…
All symptoms that can cause an artwork to be un-usable at worst and require repair at best.
To keep contaminants off your artwork, you must incorporate an air filter into your airbrush air line
They go by many names:
Moisture Trap
Water Trap
Oil Trap
Air Filter
Compressor Filter
It is essentially a small filter that will be placed within your airbrush air line. Ideally as far from the air supply as you can get it, so to allow time for the air to cool and condense before the filter.
Over time, as you use your airbrush, you will begin to see the filter fill with water and possibly other contaminants originating from your air supply.
Every now and then you will need to replace or drain your air filter when it is full (depending on the model you choose).
Air Filter Orientation:
Compressor → Regulator → Shop Hose → Air Filter → Airbrush Hose → Airbrush
Recommended Air Line Filter: I recommend you Integrate This Airbrush Air Filter (Available on Amazon) into your air line. It does what is needed at a good price point. Plus, it comes with a mounting bracket.
I have personally placed my air filter between my shop air hose and airbrush air hose. My shop air hose is 25′ in length, which allows plenty of time for the air to cool and condense before the filter, so the filter can effectively do it's job.
Learn about the different inline air filters available, the sizing and specs to consider when selecting an airbrush air filter. Get personalized recommendations based on your setup.
Fittings, Connectors & Adapters

From your airbrush back to the air supply (Air compressor) there are a plethora of different connectors and fittings that are used to connect the entire air line together.
Depending on the complexity of the airline you're building, you may need a variety of different fittings and adaptors.
There are so many fittings and adapters used within the airbrush community, it's hard to list them all out and explain their use here.
But, if you're interested, I've provided a link below where you can learn about the different fittings and sizes, along with integrations of T-fittings if you'd like to incorporate additional airbrush hookups and so forth.
But in short, there's 3 different connectors you'll find being used in an airbrush air line:
Quick Connect / Disconnect Fittings
Adapters
Joints
Each has it's own sizing and spec requirements which needs to be considered based on your specific air line. Ideally you would select size and spec of your fittings based on the current thread size and pitch of your chosen air line components.
Fittings, Connectors & Adapters Orientation:
You can place quick connects between each component of your air line. Or if the connections allow, you can directly connect those that don't need quick connects. I personally place quick connects between each component for ease of customization at a later date if needed. For further details, visit the fitting & adapter selection guide linked below.
Recommended Connectors: I recommend you use This 1/4″ NPT Plug & Coupler Set (Available on Amazon). It comes with all the quick connects you will need for your air line, if you choose to go with a layout similar to mine.
Discover commonly used fittings and adapters and select the ones that are right for your airbrush setup. Get guided help to determine exactly what fittings, connectors & adaptors you need.
Sealants

Finally, you will need a thread sealant to seal the threaded connections within your air line. Every threaded connection point must utilize thread sealant in order to keep it airtight and free from leaks.
Air leaks will require the air compressor to work harder and longer to maintain pressure, as well, will likely result in excessive noise if not taken care of.
Bottom line, air leaks are bad and a waste of resources. So, the best thing you can do is use a thread sealant & quality components when assembling your air line.
You have two thread sealant options to choose from:
Teflon Tape: Commonly used by plumbers, it is a good option for sealing up threaded joints throughout your air line. To use, you'll simply wrap the male threads 2-4 revolutions tightly in the same direction the female end will be threaded on (This way the tape does not unravel as you thread the ends together). Then simply tighten the two ends using a wrench.
Teflon Thread Sealant: Essentially Teflon Tape but in a liquid form (Similar to a thick gluey consistency). To use it, you'll simply paint the liquified Teflon around the male end of the threads (careful not to get it inside the air hose). Then simply thread the ends together and tighten using a wrench.
In my opinion, the Teflon thread sealant (Liquified Teflon) is the best thread sealant. As it is simple to apply and is very user friendly. I've had Teflon tape leak on me before, but the thread sealant never has.
Airbrush Air Line Final Assembly Diagram
Below is a video & illustration of the airbrush air line layout I am currently using today. I've provided quantities as well as links to where you can get each.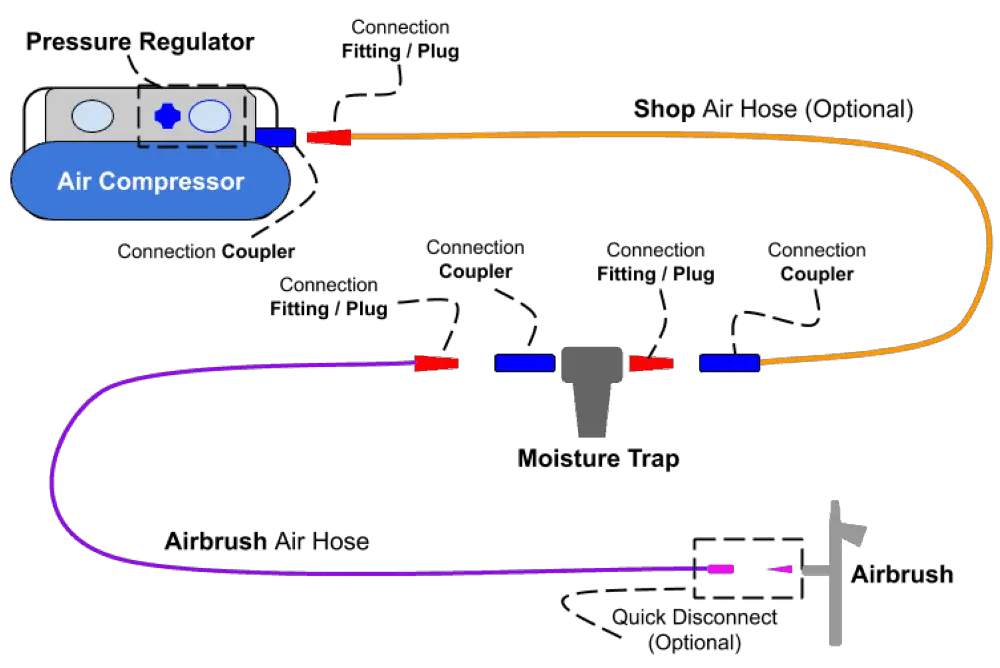 But keep in mind your needs may very slightly so draw out your air line components and run it through your mind for a bit to consider all aspects before you make it physical.
Conclusion
Connecting an airbrush to an air compressor can be as complex or simplistic as you need it to be.
To tell you the truth,
you can connect your airbrush to virtually any large or small shop style air compressor by utilizing an airbrush air hose and a simple plug that is spec'd to fit the coupler on your air compressor, along with an adapter between the plug and airbrush hose.
Or you can go all out by incorporating:
T-fittings for additional air ports
Extra air hoses to get additional reach
Air filters to cleanse the air from contaminants
And so on…
I hope you were able to find some value here! If you have any further questions regarding the airbrush do be sure to take a look around the website. Airbrush Insider is dedicated to helping all in the airbrush community!
Return to the complete airbrush equipment list to continue researching and selecting your airbrush equipment. Once you've got your equipment selected and connected, from there we'll continue onto paint and color selection.
Affiliate Disclaimer:
In order for Airbrush Insider to remain a free resource, we may participate in select product affiliate programs that we believe will be of value to you (our readers). In so doing, we may be compensated at no extra cost to you (our readers).