If your anything like me, you want the best bang for your buck. Well, after many hours spent researching the compressors on the market, I have come across a few compressors that are optimal for airbrush use.
To be honest, I never even given traditional airbrush compressors a chance. Simply because my research concluded that they struggled to keep up with the demand of most airbrush artists.
What do I mean by, "They struggle to keep up"?
Well, Most so called "Airbrush compressors" don't have a tank, which requires the compressor motor to work continuously during use, which leads to extensive heat build up and later pre-mature failure of the unit…
This is especially true if you spend a significant amount of time airbrushing… Because the more time spent airbrushing, the hotter these so called "Airbrush compressors" get.
I guess you could say the traditional airbrush compressor is overworked and under performs and the small shop compressor is under worked, and over performs.
I didn't want to worry about this, so I decided to skip the traditional rout and go with a small shop compressor instead.
And, Yes, you can use a traditional air compressor for airbrush use.
The funny thing is, is under most circumstances you can get a small shop compressor for the same cost of a traditional "Airbrush compressor", yet it far out performs the small "Airbrush compressor".
However, you do sacrifice movability to a degree. As small shop compressors are still larger then the majority of traditional airbrush compressors.
For Example, traditional Airbrush Compressors commonly weigh around 10 – 20 LBS (Without a tank). While many smaller shop compressors weigh around 25 – 40 LBS (Depending on make an model).
Now for most, the next concern is noise level. Because as we all know, air compressors can be very loud and annoying… To say the least.
Well, Assuming you select the correct unit, some of the modern shop compressor options are actually just as quiet as most of the traditional airbrush compressors…
And get this, they only cost a small amount more in relation to traditional airbrush compressors.
Lucky for you, I have dug up a few Small Shop Compressors that maintain the same sound level as traditional airbrush compressors, yet far out perform any airbrush compressor…
But when it comes to noise level, Assuming you select the correct unit small modern shop compressors are as quiet as most of the traditional airbrush compressors…
Anyway, Without Further Adieu… Here is the compressor I personally use, and have used for the past year.
The Compressor I Personally Use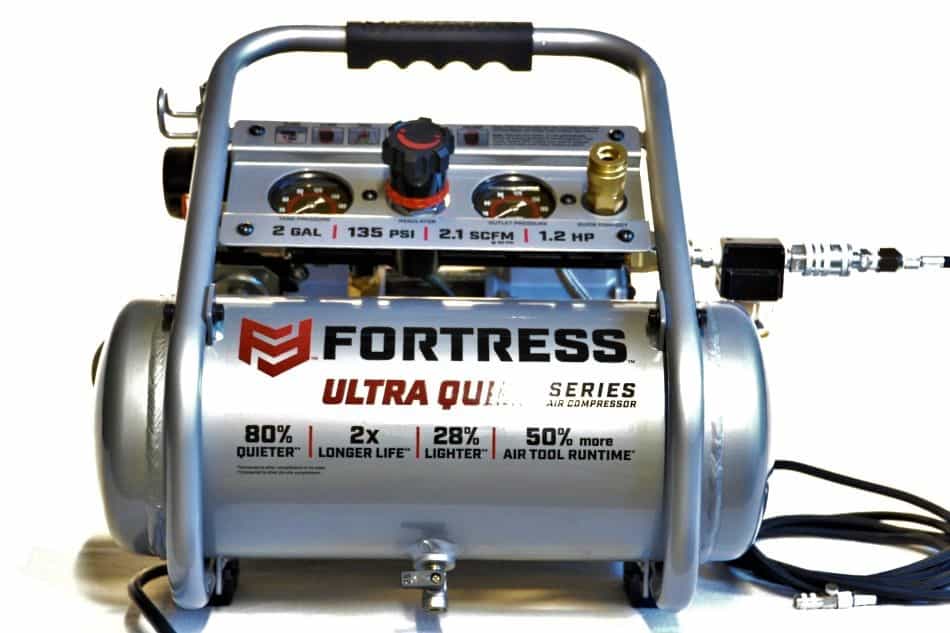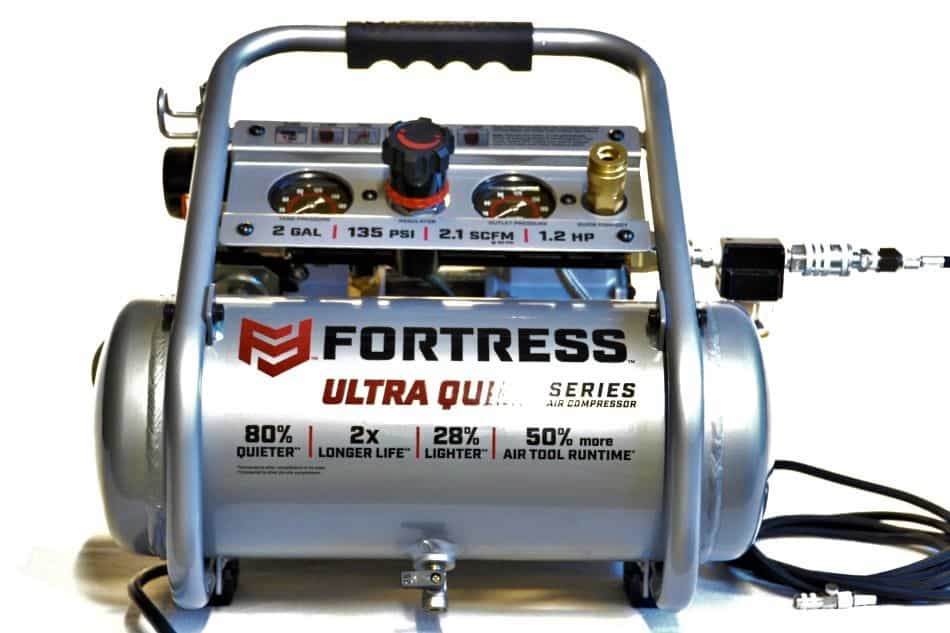 Introducing the Ultra Quiet 2 Gallon air compressor made by Fortress (Available At Harbor Freight).
It comes with a 2 gallon supply tank, allowing the compressor motor to rest between re-fills. Which will make the motor last much longer then if it was continuously running during use. As is how most traditional Airbrush Compressors operate…
As well, the max PSI output far exceeds any needs you'll have for airbrush use. Making this compressor a brilliant, yet versatility compressor for airbrushing. And best of all, its quite, coming in at only 60 DBA.
Basically the same sound intensity as most so called airbrush compressors with a quarter of the capability…
This is why I opted for the Fortress. But there are a few alternative options that closely mimic the specs of the fortress. And are a little more available on the Internet.
Similar Recommended Airbrush Compressors
(2 Gallon) California Air (Available On Amazon) – The California Air 2 gallon air compressor is a great alternative to the harbor freight 2 gallon Fortress compressor. Why, because it's more available and the specs basically mimic the harbor freight compressor. The only real difference between the 2 is the shape and layout of the on board components.
(1 Gallon) California Air (Available On Amazon) – The California Air 1 Gallon air compressor is a smaller alternative to the 2 compressors above. However, that doesn't mean it wont be able to keep up with the modern airbrush artist…
If your looking for a smaller, Lighter weight compressor. Ideal for portability. I would strongly recommend the 1 gallon compressor by California Air.
However, that being said, the larger the air storage tank is on the compressor, the less the compressor motor will need to run.
For example, The Fortress air compressor will last about 5 + minutes of straight airbrushing (Straight air flow) before the compressor motor will flip on to re-fill the supply tank.
Yet the 1 Gallon compressor will likely only go about 2.5 + minutes of continuous airbrushing before the motor will switch on to re-fill the tank.
But that's using about 30PSI. Which is the standard for a gravity feed airbrush. A siphon feed airbrush is likely to require 45PSI + in order to function properly.
Meaning, the less time between compressor tank re-fills due to the greater amount of air pressure consumption.
So, If your using a siphon feed brush, I'd recommend going with a larger supply tank on your compressor. But that's my personal opinion.
Conclusion
If you have intentions of spending hours airbrushing. I highly recommend you do like I did, and skip the traditional airbrush compressor, and go with a small shop compressor for your airbrush needs.
It might cost a little more up front to go the shop compressor rout (If you get a quiet one) verse the tradtional airbrush compressor rout. But long term, your saving money.
Because you'll get much more use out of a small shop compressor…
Why,
Because your not pushing the compressor to its limits, like you are using a traditional airbrush compressor.
That being said, there are a few items necessary to setup a shop air compressor for airbrush use. But don't worry, I walk you through all the necessary items needed, and the order they go in Here.
Anyway, I hope you were able to find some value here, If you have any further questions regarding the airbrush do be sure to take a look around the website. Airbrush Insider is dedicated to helping all in the airbrush community.
This Is Colt Signing Off!